Main Content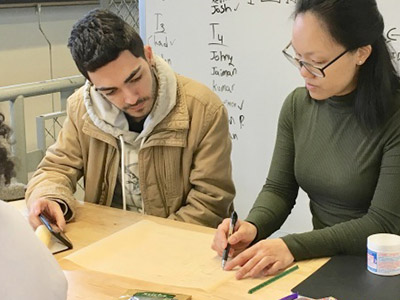 This year we are offering opportunities for in-person studio tours and a virtual information session. Attend one or both.
About our Programs
Master of Landscape Architecture 1
If you are discovering landscape architecture a little later in life, this is your opportunity. Our accredited professional Master in Landscape Architecture is a 3 year program designed for students with an undergraduate degree in a different field. This program and our undergraduate program are the only accredited Landscape Architecture programs in New Jersey. Our setting in central New Jersey, close to both Philadelphia and New York City, is providing us with ample opportunity to bring current and future challenges of urbanized America into the class room. We are distinct from other MLA programs because our location within the School of Environmental and Biological Sciences gives our creative design program a sustainable and scientific knowledge base.
Master of Landscape Architecture 2
If you already hold a professional degree in landscape architecture and want to give your professional career an extra push or you are interested in advancing in an academic setting, our MLA 2 is the perfect match for you. Our distinguished faculty excels in creative design explorations and scholarly research in fields such as community engagement and design, post-industrial landscapes, cultural landscape heritage and critical landscape theory, residential gardens and landscape materials, as well as ecological design on-site scale and regional scale.
International students and students with degrees in related fields
We very much welcome international students and are committed to providing you with an excellent American educational experience. Depending on your English language competence and your previous education, we will determine if the MLA 1 or the MLA 2 is the better option for you. If you hold a degree in a related design field such as architecture, urban design, or environmental planning, we will explore together whether individual classes of the MLA 1 can be waived.
Master's Degree Learning Goals and Assessment
About Graduate Study:
Explore our graduate student experiences:
More about Landscape Architecture