Main Content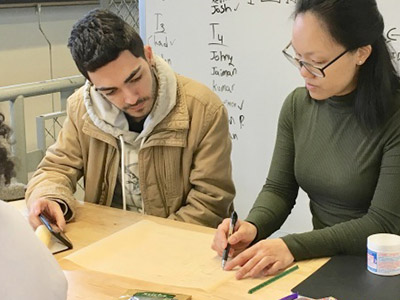 About our Programs
Landscape architects with a strong grounding in natural processes who consider the human dimension can design transformative landscapes to impact daily lives.
Our nationally accredited curriculum prepares students for Landscape Architecture licensure. Positioned within the School of Environmental and Biological Sciences, we have many avenues to examine the evolution of ideas shaping the interaction of people and place and to integrate scientific knowledge creatively in the designed landscape. Interdisciplinary first semester courses with environmental planning students provide a mutual foundation for both majors and promote collaboration between disciplines. Our Praxis Studios provide design inquiry choices: students select from ecological, open space, and community design options.
As a profession, we advocate for design that crosses scales and sees human and ecological systems as interconnected. This positions landscape architects as design leaders of interdisciplinary teams of planners, engineers, ecologists and social scientists who will explore solutions to the formidable problems of our time–climate change, demographic shifts, increasing income inequality, food scarcity, and the spread of global pandemics—and make our world more sustainable, viable, just, healthy, inclusive, and beautiful. A minor in Landscape Design, without accreditation, is also available.
---
Want to know more?
Attend our Virtual Open House
---